Version update to 1.6 - Usability, Teams and Bots
Another update! This time it's all about how information is laid at the user's feet.
SmartStash version update 1.6 - what's new?
The slogan of a famous DIY store was once "There's always something to do." - This is also true for us and the constant further development of SmartStash. We have briefly summarised the highlights of the latest version update 1.6 for you here and are of course happy to show them in a small demo!
SmartStash Version 1.6 - Usability improvements
In the MyStash area, the tiles have been revised once again so that they are better distinguishable from the background in the latest update. They are now always coloured in the main foreground colour (light or dark in inverted themes) and are therefore always clearly visible.
In order to generate a more individual and uniform overview of the stashes, it is now optionally possible to enter a logo paddings. When using borderless PNGs as logos, for example, the use of the same paddings ensures a more uniform surface.
New features have been added for individual tiling styles, for more design freedom:
BorderColor / HoverBorderColor
TextColor / HoverTextColor
BackgroundColor / HoverBackgroundColor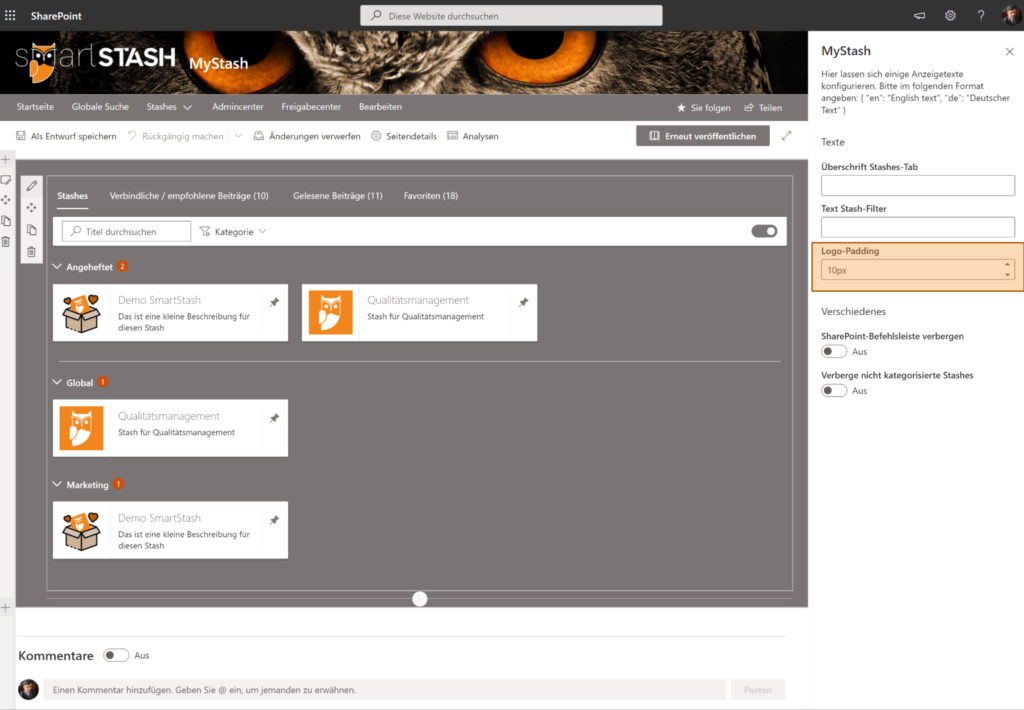 SmartStash Teams App - Update
The new version of the Teams app is now provided by us on request! The app enables simplified access to the MyStash or other global pages. SmartStash posts and documents can thus be read and also confirmed directly in Teams much more easily and specifically, as the information conveniently opens in a pop-up window. The integrated Stash can also be pre-filtered to a topic or role - for even more personalisation!
As a user, I no longer have to leave my collaboration platform Teams to find and read information that is important to me in SmartStash.
SmartStash Microsoft Teams Bot aka Franz
The SmartStash Teams Bot "Franz" makes reading (and confirming) easier. The SmartStash Bot reminds readers of pending articles that have not yet been confirmed as read - until they have been confirmed. The frequency of the reminder can be controlled individually for an entire stash or even per article. Information distribution and confirmation has never been so easy.
Our owl Franz ensures that new contributions - which have to be confirmed - and recommendations reach the recipient without detours. That's why we say casually: Franz can do it.