Our dream
Sit back, make yourself comfortable and accompany us a bit on the way to our dream with the following text.
We are Team SmartStash and "we have a dream".
Namely, we dream of a world of boundlessly linked knowledge. A world in which everyone can find their way around and which does not trigger frustration, but joy. A world in which people and knowledge come together naturally. Even though this world may be digital, it is still real. We are surrounded by it every day. Every single one of us. Sometimes more, sometimes less.
Admittedly, starting our vision and imagination with this quote shows delusions of grandeur. But don't you sometimes have to be a little insane to achieve great things?
In any case, we still have a lot of plans for SmartStash. And perhaps you will accompany us on this journey?

A better working world for all
The cornerstone for SmartStash came out of its own necessity. Long before the cloud, knowledge management systems existed on-premises. Some maintained in software, some only in folder structures and before that in file folders - in real, actual paper form. (Spoiler: that still exists today!).
We too needed a way to share and maintain our corporate knowledge internally. The first prototype of SmartStash was developed for SharePoint OnPremise a few years ago - as a pure structured documentation of processes and important departmental knowledge. This quickly evolved into an environment to ensure that certain information would be seen no matter what. Over the years, working closely with our customers and moving to the Microsoft Cloud and thus SharePoint Online, the idea for a comprehensive and flexible product came about - SmartStash was born.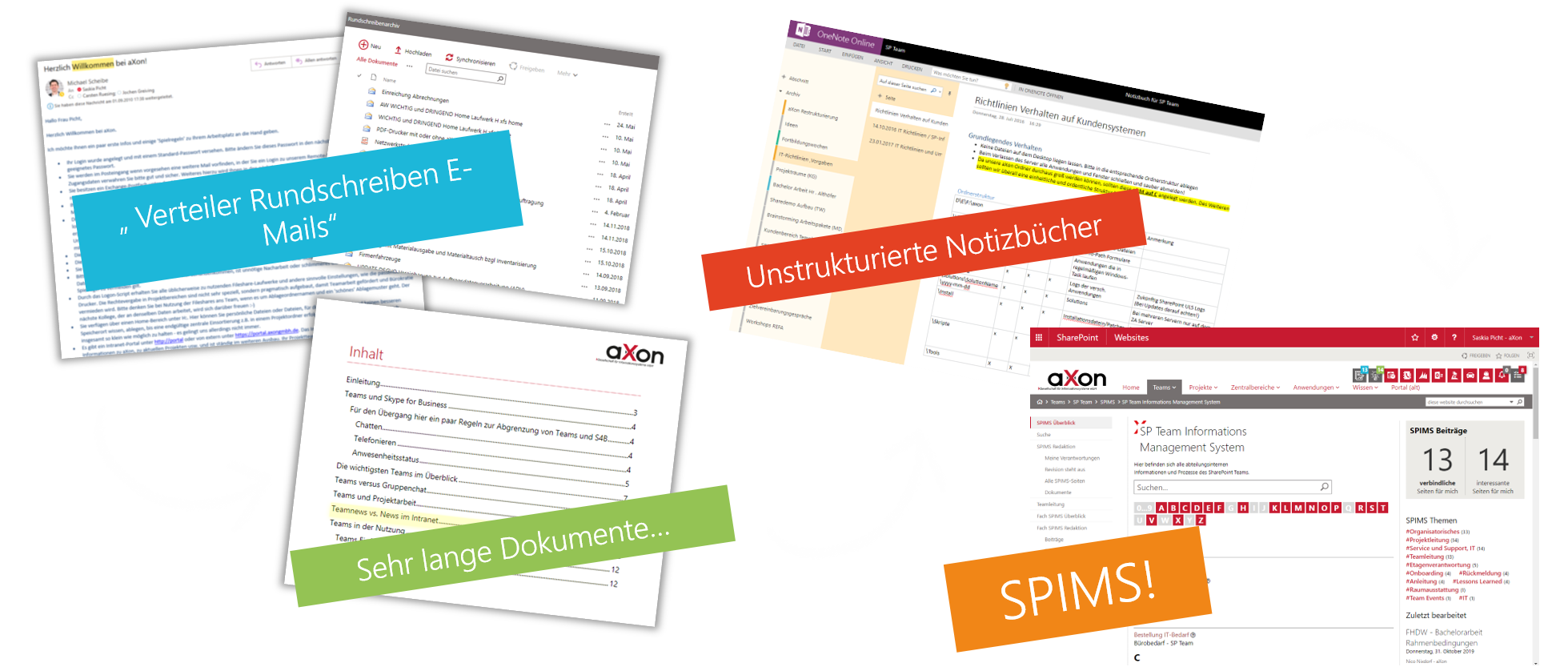 With the leap to the cloud, a whole "new" world has opened up for our team. Previously, in addition to consulting and development, we could also shine with the completely individual design of software for companies. In the cloud, that was suddenly no longer as easy to do at the beginning. But that didn't stop us from building what is probably the most comprehensive and easiest knowledge management on SharePoint Online.
"With us, Microsoft is virtually co-developing." - Sebastian Müller, SmartStash Product Developer
Not everyone can say that about themselves. Microsoft is developing for us for free! Every improvement to Microsoft's 365 SharePoint Online is automatically in SmartStash, because SmartStash is SharePoint. Just with a simple, intuitive user interface and useful processes already in place. Best of all, there's no interface to adapt when Microsoft updates!
SmartStash - the essence of (corporate) knowledge
In principle, networking people and knowledge is not that difficult. The challenge is to link the two in a meaningful way - based on topics, roles and content. Otherwise, you get what everyone already has to endure: an information tsunami.
In private everyday life, we cannot help people find only the information that is important to them, but during work. (which accounts for a not inconsiderable amount of time).
In addition to the constant further development of the software, we also continue to develop our consulting approaches and simplify the processes so that they are understandable and can be implemented more quickly.
We were inspired by Marie Kondo, among others. Because knowledge management is nothing other than "categorically tidying up and valuing".
What does Marie Kondo have to do with knowledge management?
Marie Kondo is a tidying activist. She is the creator of the KonMari method, for which people can get certified as consultants. These tidying coaches help to free the entire home from unnecessary ballast. In the process, strict attention is paid to ensuring that only what really sparks joy remains.
Corporate knowledge also needs to be regularly cleaned out, sorted and updated. It can't all lie wildly in a heap, but needs structure. Every piece of information needs a home so that it is accessible to everyone and doesn't just exist for the files.
Where we want to go with SmartStash in the future
With SmartStash we want to integrate all participants of the knowledge management process in the way that suits them best and makes their work easier. From the admin to the mere reader of a piece of information. That's why we develop special functions especially for the different roles. We use customer requests, industry specifics and our years of experience in portal projects to continuously improve SmartStash and establish it along the Microsoft strategy.
Digital knowledge management will continue to change and we want to contribute significantly to this. SmartStash is continuously being expanded by our team of developers - with features that will make your everyday work easier and easier. And that fit your company!
As a customer, you can help us make SmartStash better and better, because your requirements and ideas are what drive and inspire us.
Knowledge linked without borders
Now you know what motivates and drives us and what you can expect from us. At this point, we would like to know if we can help you link your corporate knowledge with your employees without limits?
Get in touch with us via the contact form! We are already looking forward to being allowed to "clean up" properly at your place.
Knowledge set limits?
Of course, we can also build in a few boundaries if they are necessary. We can talk about this in person or you can read about our rights and role model in this article.
The Knowledge Management Demo
We would be happy to convince you in a non-binding demonstration of the SmartStash Knowledge Management App for SharePoint Online, which advantages the app will also have for you! Our promise: after that, you'll never want to be without it again 😉